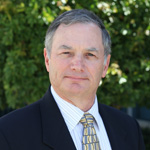 Mr. Miller joined DuPont after earning his Chemical Engineering degree with highest honors from The Georgia Institute of Technology in 1972.
After assignments in DuPont Polyester Intermediates, Acrylic Fibers, Chlorine Operations, and Agrochemicals, Mr. Miller assumed responsibility for Corporate Chemical Engineering Consulting and Research at DuPont. In 1987, Mr. Miller was appointed Americas R&D Manager for the Engineering Polymers, Automotive and Fluoropolymers businesses, and in 1990 he was named Technology Manager, DuPont Nylon Enterprise.
In 1995, Mr. Miller was appointed New Business Development Manager, Nylon Enterprise, and launched the "3GT Venture".   SoronaÒ Triexta, which is the first DuPont polymer platform to use a bio-based raw material, is now a leading business in the DuPont Industrial Biosciences platform.
In December 2002, Mr. Miller was appointed Program Director, Biorefinery Development.   In that role, he was responsible for assembling and leading a consortium of partners in a $38MM matching funds DOE program which created the technology for a novel integrated cellulosic ethanol biorefinery.
In May 2005, Mr. Miller organized and launched a bio-based performance polyols business, DuPont Cerenol®.
In June, 2010, Mr. Miller was appointed to the position of Global Business Development Manager, Biomaterials and Specialties, in which he was responsible for leading the development of the next generation of bio-based sustainable businesses until his retirement from DuPont at the end of December, 2011.
After retiring from DuPont, Mr. Miller launched a sole proprietor consulting business: Verdecute Consulting  "helping you execute sustainable growth".
On May 14, 2012, Mr. Miller assumed his current position of Chief Business Officer at Verdeyzne, Inc., a small, innovative biomaterials company located in Carlsbad, California.
Mr. Miller was inducted into the Georgia Institute of Technology Academy of Distinguished Engineering Alumni in 2001.  He was part of the joint DuPont/Genencor team that received the 2003 EPA Presidential Green Chemistry Challenge award for "Microbial Production of 1,3-propanediol".  He has also been recognized by DuPont with 5 corporate excellence awards, including the prestigious Bolton-Carothers Award for the development of Sorona®  and the Sales and Marketing Excellence Award for successfully petitioning the FTC to obtain a new sub-generic "triexta" for PTT fibers.
Mr. Miller is an inventor of 8 issued patents, has published 5 journal articles and has made numerous presentations to conferences on bio-based materials and bio fuels.