Bioindustrial Innovations: Unlocking Value and Tackling Climate Change
November 22-25, 2015, Shaw Conference Centre, Edmonton, Alberta, Canada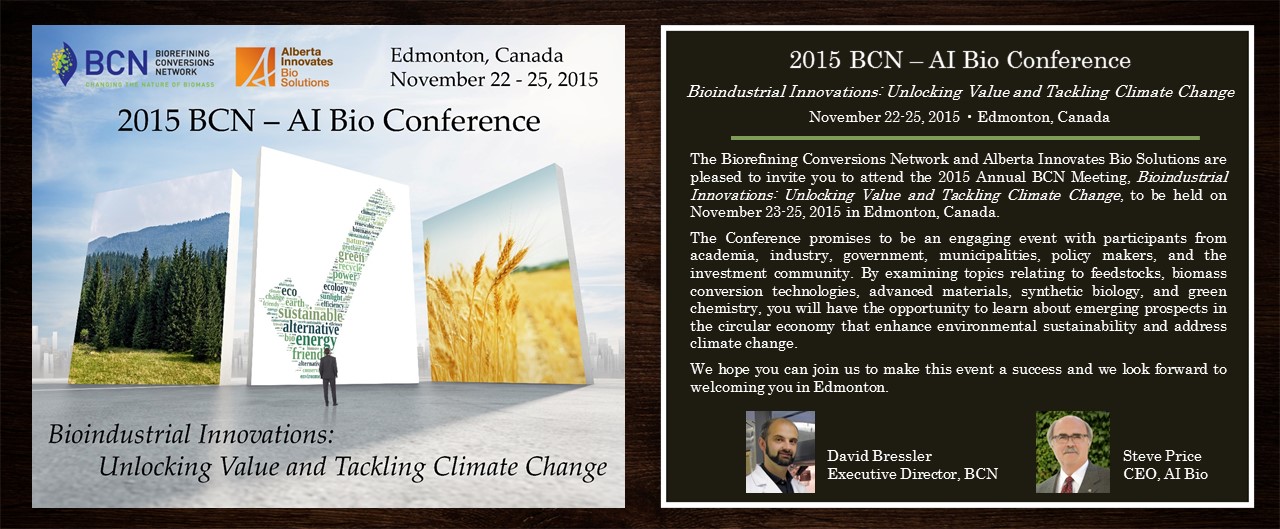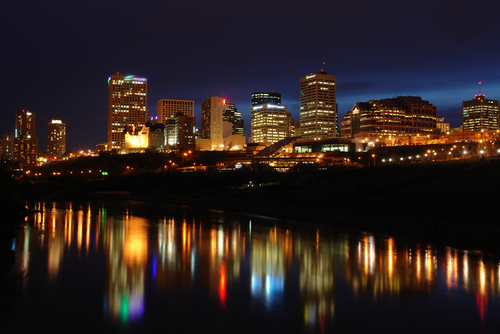 On behalf of David Bressler, Executive Director of the Biorefining Conversions Network, and Steve Price, CEO of Alberta Innovates Bio Solutions, we are pleased to invite you to to attend the 2015 BCN – AI Bio Conference, Bioindustrial Innovations: Unlocking Value and Tackling Climate Change. The event will be held on November 22-25, 2015, at the Shaw Conference Centre in Edmonton, Canada.
This year's conference promises to be an engaging event that brings academia, industry, government, municipalities, and policy makers together. Participants will be presented with a unique networking opportunity to develop ideas, businesses and relationships that are critical for success in today's bioindustry. In the coming months, we will work hard to bring you programming relating to feedstocks, biomass conversion technologies, synthetic biology, green chemistry, advanced materials, and other facets of the bioindustry.
---
Plenary Program
Master of Ceremonies
–Jay Ingram, Correspondent for Discovery Channel Canada
Welcome Address
–Honourable Deron Bilous, Minister, Economic Development and Trade, Government of Alberta
Opening Keynote
–Andreea Strachinescu, Unit Head, New Energy Technologies, Directorate General for Energy, European Commission
Plenary Session #1 – Creating Industry Partnerships
–Jay Ingram (Moderator), Correspondent for Discovery Channel Canada
–Jim Grey, CEO, IGPC Ethanol Inc.
–Ron Reis, Senior VP – Pulp, Millar Western Forest Industries Inc.
–Mario Pennisi, CEO, Life Sciences Queensland
–Trevor Carlson, Director – Sustainability, Federated Co-operated Ltd.
–Rebecca Boudreaux, President, Oberon Fuels
Plenary Session #2 – How Do GHG Policies Affect the Bioeconomy?
–Andrew Leach (Moderator), Associate Professor, University of Alberta; Chair, Climate Change Advisory Panel at Government of Alberta
–Warren Mabee, Canada Research Chair, Renewable Energy Development and Implementation; Director, Queen's Institute for Energy & Environmental Policy
–Matthew Carr, Executive Director, Algae Biomass Organization
–Paul Clark, Board Member, The Climate Change and Emissions Management Corporation
–Tim Haig, CEO, Forge Hydrocarbons; Founder, BIOX
Plenary Session #3 – International Market Place for Bio-Based Products
–Jack Saddler (Moderator), Professor, University of British Columbia
–Andreas Hornung, Director, institute branch Sulzbach-Rosenberg, Fraunhofer Institute for Environmental, Safety, and Energy Technology UMSICHT
–James Lee, Director – Commercialization, Bioindustrial Innovation Canada; Portfolio Manager, Sustainable Chemistry Alliance Investment Fund
–Regina Lago, International Affairs Officer, Embrapa Food Technology, Brazilian Agricultural Research Corporation (Embrapa)
Keynote Luncheon
–His Worship Don Iveson, Mayor, City of Edmonton
Feature Keynotes
-Justin Riemer, Assistant Deputy Minister, Economic Development and Trade, Government of Alberta
-David Hancock, Former Premier of Alberta and Minister of Innovation and Advanced Education
For the latest programming and a list of confirmed speakers, click on the "Detailed Agenda" link below.
---
Breakout Sessions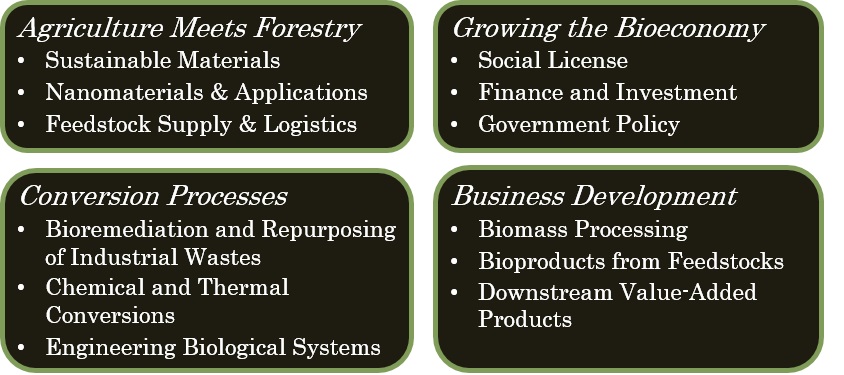 ---
Student Competition – Lightning Rounds
Eligibility: You must be a graduate or co-op student working towards a degree or diploma at an accredited post-secondary institution.
Format: Each student will be given 5 minutes to present their research and ideas in an oral presentation.
Suggested topics: Same as breakout sessions (see above).
Judging Criteria: Presenters will be graded on a number of criteria, including research topic, organization, delivery, and overall impact.
Cash prizes: 1st place – $300; 2nd and 3rd place runners-up – $100 each.
To take part in this competition, students must submit an abstract (300 words or less) to bcn@ualberta.ca with the subject title "2015 BCN – AI Bio Conference: Student Competition" no later than October 10, 2015. Depending on the number of abstracts submitted, we may not be able to accommodate everyone; however, a minimum of 15 spots are guaranteed.
---
*NEW* – BioAlberta's 16th Annual AGM & Awards Gala

Time: November 24, 2015, 4:00 pm – 8:45 pm
Location: Fairmont Hotel Macdonald, 10065 – 100 Street NW, Edmonton
---
Suggested Accommodations

10065 – 100 Street, Edmonton, Alberta
Phone: 1-866-540-4468
Web: www.fairmont.com/macdonald-edmonton

10135 – 100 Street, Edmonton, Alberta
Phone: 1-888-627-8530
Web: www.thewestinedmonton.com

10111 Bellamy Hill, Edmonton, Alberta
Phone: 1-800-661-8801
Web: online booking link
When booking by phone, please book under AI-Bio/BCN Conference
---
Organizing Committee

Partners and Sponsors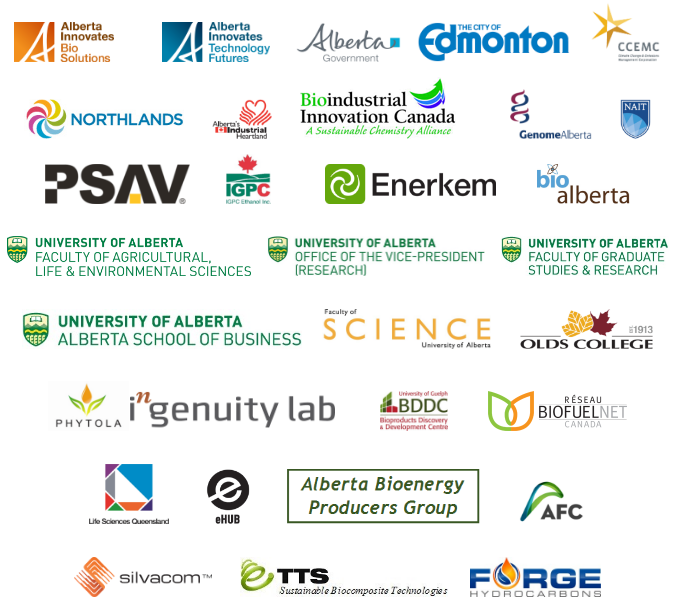 ---
For questions about programming, accommodation or logistics please contact:
Lauren Mercier: lgmercie@ualberta.ca or 780-492-5685
For questions about registration, communication, advertisement or sponsorship opportunities please contact:
Victor Cheng: vcheng@ualberta.ca or 780-492-1760