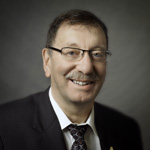 Eddy Isaacs is the CEO of Alberta Innovates – Energy & Environment Solutions (AI-EES) with responsibility for Alberta's strategic directions and investments in energy technologies, renewable and emerging resources, environmental management and water resources.
He has been instrumental in promoting innovation in energy and environment across Canada and has served as co-Chair of the Energy Technology Working Group of the Canadian Council of Energy Ministers.
Eddy holds a Ph.D. from the University of Alberta and a B.Sc. from McGill University. He has over 70 publications and 6 patents in the energy field.
A Fellow of the Canadian Academy of Engineering, Eddy serves on the Boards of the Petroleum Technology Alliance of Canada and the Alberta Chamber of Resources.