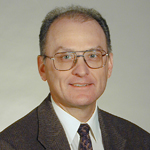 Theodore H. Wegner
Assistant Director
USDA Forest Service, Forest Products Laboratory
Madison, WI 53726-2398
Dr. Theodore (Ted) Wegner is Assistant Director of the USDA Forest Service, Forest Products Laboratory.  Wegner joined the Forest Service in 1977 prior to which he worked for E.I. DuPont.
He has been a leader in defining and carrying out the Forest Service research agenda for forest biomass to bioenergy conversion. He serves and participates on two industry led groups. The first is the Bioenergy Deployment Consortium, a network of public and private companies interested in influencing the course of the emerging bioenergy and biomaterials economy in the United States. The second is the Agenda 2020 Technology Alliance, an industry-led group aimed at reinventing the forest products industry through innovation in processes, materials and markets.
Wegner has been a leader in advancing nanotechnology within the forest products industry. He co-chaired the first US workshop on Nanotechnology for the Forest Products Industry and is co-editor of the "Nanotechnology for the Forest Products Industry: Vision and Technology Roadmap".  He was co-chair or organizer of the 2006 – 2011 TAPPI International Conferences on Nanotechnology for Renewable Materials.  Since 2006, he has served as a Forest Service representative on the $1.8 billion per year U.S. National Nanotechnology Initiative. Wegner has coauthored a number of papers on the role for nanotechnology and biofuels/biochemicals in the forest products industry
Wegner is a Fellow of the Technical Association of the Pulp and Paper Industry (TAPPI) and a Fellow of the International Academy of Wood Science (IAWS). He is the recipient of the 2011 Andrew Chase Award from the American Institute of Chemical Engineers. He has served on the Secretary of Agriculture's USDA Forestry Research Advisory Committee (2006 – 2010).
Wegner's academic degrees are in Chemical Engineering having earned his Bachelor of Science degree from the University of Wisconsin and his Master of Science and Ph.D. from the University of Illinois.