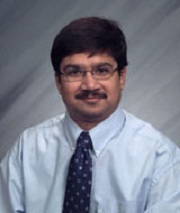 Background: 
Dr. Kumar received a Master of Engineering from the Asian Institute of Technology in Energy technology, Thailand and a B.Sc. in Energy Engineering from the Indian Institute of Technology, India. Dr. Kumar earned his Ph.D. in Mechanical Engineering from the University of Alberta after completing his doctoral research in the area of utilization of biomass for power and liquid fuels. He has worked as a postdoctoral fellow in the Department of Chemical and Biological Engineering at the University of British Columbia.
Expertise: 
Techno-economic assessment of bioenergy systems, Biopower, Biofuels, Biomass Gasification and Combustion, Large scale biomass transport and logistics, Energy simulation and modeling.
Research interests: 
Dr. Kumar's current research interests include techno-economic assessment of bioenergy systems including biopower and biofuels, large scale biomass transport and logistics such as pipeline transport of biomass, simulation and modeling of biomass feedstock supply systems, greenhouse gas mitigation, and energy forecasting and planning. He has extensive experience in biomass energy studies and is widely published in the area of bioenergy and biofuels.
Current research projects: 
BCN projects:
Biomass Pre-processing
Characterization of pipelined biomass (PI)
Characterization of forest harvest residues from Alberta's boreal forest (PI)
 Market Assessment
Potential of syngas based biofuels and biochemicals for Drayton Valley, Alberta – Technical and economic state-
of-the-art and development options (PI)
Other projects: 
Pipeline transport of biomass as feedstock for fuels and chemicals 
Large scale biomass transport to a biorefinery by pipeline 
Thermo-chemical conversion of agricultural biomass for carbon sequestration 
Power from triticale straw 
BioHeat in Alberta: Techno-economic Assessment 
Development of best economic options for GHG mitigation in Alberta 
Development of energy, emission and water flow sankey diagrams for the Province of Alberta through modelling
Research capacity: 
Dr. Kumar has established the Sustainable Energy Research Laboratory (SERL) in the Department of Mechanical Engineering at the University of Alberta. His research group has developed extensive techno-economic models and databases on the characteristics and costs of various bioenergy technologies including the capital cost models, feedstock collection and transportation models. The large scale fluids laboratory where biomass pipeline loop is located has the capability of pumping different biomass feedstock and performing analysis on their rheological characteristics. The laboratory is also capable of carrying out physical characterization of biomass feedstock. His laboratory has also developed various energy forecasting and planning models and specific models for Alberta. These models are capable of estimating GHG emissions due to implementation of a technology over a long term planning horizon and for particular region.
Other activities/information: 
Dr. Kumar is the lead of the Feedstock Pre-processing research theme of the BCN. He also serves on the editorial board of Canadian Biosystems Engineering Journal as an Associate Editor. He is currently working on a range of projects funded by various agencies including Agriculture and Agri-Food Canada, Agriculture and Food Council, Alberta Advanced Education and Technology, Alberta Agriculture and Rural Development, Alberta Agricultural Research Institute, Alberta Energy Research Institute, Alberta Research Council, Canadian Dewatering Inc., Canadian School of Energy and Environment, Cluster Industrielle Biotechnologie (CLIB2021) in Germany (a consortium of more than 60 companies), Government of Alberta, Highmark Renewables Inc., National Science and Engineering Research Council (NSERC), and the Town of Drayton Valley. 
Top 3 Future Interests for Collaboration:
Pipeline Transport of Biomass
Biomass based syngas to fuels and chemicals
Development of GHG mitigation models for energy sectors
Mechanical Engineering
5-8M Mechanical Engineering
Ph: 780.492.7797
amit.kumar@ualberta.ca