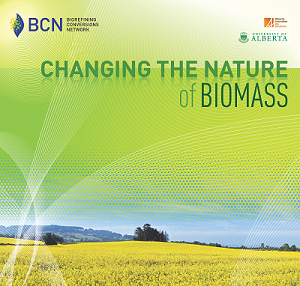 The BCN is participating in the 2011 World Congress on Biotechnology & Bioprocessing in Toronto, ON (May 8-11).
As an integral part of Bioeconomy Alberta, the BCN will actively support the mission to develop Alberta's bioindustrial sector by attracting new companies to the province and continuing to augment the growth of a strong research community to enhance the sustainability and competitive edge of Alberta's bioeconomy.
Look for us at the Alberta booth on the tradeshow floor, request meetings with us or our Alberta colleagues through the Bio One-on-One Partnering tool, and keep an eye on the Bioeconomy Alberta website for information on our activities. Bioeconomy Alberta is hosting a networking reception on Tuesday evening at the CN Tower. This event is by invitation only so please get in touch if you are interested in attending.
BCN Director David Bressler will also be part of a panel on May 11, 2011 at 11:00AM in Room 713.
Track:

 

Renewable Chemical Platforms and Biobased Materials
Panel title: High Performance Renewables: "Bio-Based Aromatics & Hydrocarbons"
Dr. Bressler's panel presentation will focus on the production of drop-in bio-based chemicals and fuels.
Abstract: 
Widespread integration of biobased chemicals and fuels into the existing petroleum pool has been hindered due to concerns around the introduction of new products with inherently different chemical composition and functionality into infrastructure that has cost trillions of dollars worldwide and technology that has been streamlined for efficiency and quality for decades. 
The Biorefining Conversions Network (BCN) is a multidisciplinary R&D network based in Alberta, Canada focused on development of industrially relevant technologies to convert biomass into "drop-in" chemicals and fuels compatible with both traditional and emerging industries. The BCN has developed a "Lipid to Hydrocarbon" technology, which converts triglyceride based oils and fats into a portfolio of hydrocarbon products including lubricating oils, solvents light gases, diesel, jet fuel, and gasoline as well as co-products such as salt-free glycerol, short chain fatty acids and olefins using a novel two stage hydrolysis and pyrolysis process. This technology is patent pending and development of a pilot facility is underway. Alberta's established oil and gas and petrochemical sectors provide market opportunity for drop-in products and resources such as abundant forest and agricultural biomass, water, a highly skilled and technical workforce and an existing industrial base with extensive pipeline and distribution infrastructure, make Alberta an ideal location for developing bioindustrial technologies.