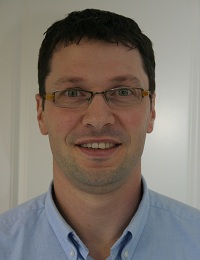 The BCN is pleased to announce the appointment of Dr. Greg Dechaine as Thermal Conversions Theme Lead. This role was previously held by Dr. Murray Gray, who will remain involved with the BCN but has resigned as Theme Lead in order to pursue sabbatical activities during 2011-12.
Dr. Dechaine is an Assistant Professor in the department of Chemical & Materials Engineering at the University of Alberta. He received a Master of Applied Science degree in Chemical Engineering from the University of Waterloo (2004) where he studied and developed coated catalysts for catalytic distillation columns, and a PhD in Chemical Engineering from the University of Alberta (2010) where he studied the selective removal of vanadium from bitumen and asphaltenes. Prior to pursuing postgraduate studies, Dr. Dechaine spent 4 years in the fertilizer industry as a plant process engineer with Agrium Inc., working with a variety of chemical processes including ammonia, nitric acid, ammonium nitrate, water treatment, phosphoric and sulphuric acid, and most other fertilizer synthesis processes.
Dr. Dechaine's background in the fertilizer industry (steam-methane reforming) coupled with his background in the bitumen upgrading industry (cracking, gasification, reforming for hydrogen production) is a natural fit with the thermal conversions theme of the BCN and prompted his recruitment.
Another significant aspect of Dr. Dechaine's research interests lie in the area of separation process engineering. Rather than specialize in a single technique and seek applications for it, the goal is to tackle difficult separation problems by selecting and optimizing the most suitable separation technique for each case. This requires a fluency in the various separation processes available to process engineers including distillation (conventional, catalytic/reactive, azeotropic/extractive), membrane separations, absorption/stripping, extraction, and filtration. The search for value added fuels and products from biomass precursors will undoubtedly spawn many interesting and challenging separation problems, hence Dr. Dechaine's interest and involvement with the BCN.
One of Dr. Dechaine's first orders of business will be to coordinate a Thermal Conversions workshop to bring together current BCN project leads and faculty members with an interest and capability in thermal conversions and related topics in separations and catalysis. The goal of this effort will be to identify research that would enable new directions in biorefining, particularly focussing on industry needs and opportunities that can be addressed by new research.