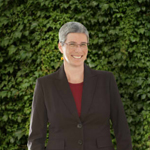 "The unique thing about working at AI Bio Solutions is bringing together agriculture, forest, food and life sciences, under one umbrella and finding and developing the places where they intersect."
Christine Murray is the Director of Agricultural Technologies with AI Bio. Her work includes all aspects of the research funding process. This process starts with developing and implementing the call for proposals in goal areas as well as working directly with research groups to develop a proposal in targeted areas. She is also very engaged with Bioeconomy Alberta Team and, as a management advisory board member, works closely with the Phytola Centre and the Biorefining Conservation Systems.
Christine graduated from the University of Guelph with a PhD, having completed her thesis research on woody plant physiology. She was then recruited by Alberta Agriculture and Rural Development, where she worked as a Nursery Crops Scientist.
After seven years as a scientist, she became the Branch Head for the Crop Diversification Centre South and then later the Branch Head for the Food and Bio-Industrial Crops Branch. This experience and educational background has helped her contribute to the strategic direction of two of AI Bio's goals: Advancing the Bioeconomy and Value Chain Sustainability.
780-422-6570
christine.murray@albertainnovates.ca