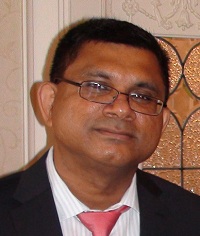 Background: 
Dr. Vasanthan earned a B.Sc. in Agriculture from the University of Peradeniya in Sri Lanka, an M.Sc. in Food Technology from the University of Reading in the UK and a Ph.D. in Food Science and Technology at the Memorial University of Newfoundland, Canada. He then worked as a Professional Research Associate in the Department of Applied Microbiology and Food Science at the University of Saskatchewan before joining the University of Alberta in 1996 as an Assistant Professor.
Expertise: Carbohydrate (starch, beta-glucan, hemi-cellulose, etc) chemistry and technology; Grain fractionation and utilization; patent drafting and strategies; preparation of industrial research grant applications and strategies.
Research interests: 
Dr. Vasanthan's research program focuses on value-added processing of grains and tubers with an emphasis on fractionation and utilization of carbohydrates in their native state and post-processing. During the 14 years at the University of Alberta, he has developed an internationally recognized research program in value-added processing of grain carbohydrates. As a recognized expert in the area of grain processing, especially on starch and beta-glucan utilization, he has been invited to participate in national and international conferences and workshops to present his research.
Current research projects:
BCN projects:
Chemical Conversions
Factors affecting starch hydrolysis (PI)
 
Biological Conversions   Fermentation of Prairie Grains (Collaborator)
Other projects: 
Structure-functionality relations in native starches 
Oat grain quality for food applications 
Value-added processing of wheat bran 
Cereal beta-glucan utilization
Research capacity:
Dr. Vasanthan's research is on plant material (grain, biomass, etc) fractionation and utilization, especially focussing on complete characterization of carbohydrates in relation to their molecular structure, physicochemical properties and functionality at their native state as well as after processing (such as extrusion, sonication, high pressure treatment, etc). His lab is equipped with a floor model twin/single screw extruder and a high power semi industrial scale sonicator.
Other activities/information: 
Dr. Vasanthan served as Vice President of Research at Cevena Bioproducts Inc. between 2002-2007 and received an ASTech (Alberta Science & Technology) Foundation Award for "Innovation in Agricultural Science" in 2005 as well as Alberta Food For Health Award – 2010 (a Premier's award for Healthy Alberta Food and Nutrition Researcher) and several Faculty teaching awards.
To date, he has authored/coauthored 62 refereed scientific publications, 5 published patents, 2 invited book chapters, 2 conference proceedings and given more than 53 conference presentations (13 invited). Dr. Vasanthan has been a consultant to grain, starch, fiber and food processing industries and assisted them in chemical analysis, new product development, by-product utilization and preparation of industrial research grant applications.
Top 3 Future Interests for Collaboration:
Integrated bio-refining approaches for Canadian crops
Evaluation of grain quality for bio-ethanol production
Bioactive components from crop residues pre and post fermentation
Agricultural, Food & Nutritional Science
2-06B Ag/For Centre
Ph: 780.492.2898
thavaratnam.vasanthan@ualberta.ca