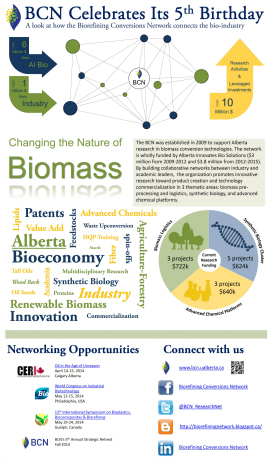 The BCN has officially crossed the 5-year mark!
To commemorate this special occasion, we have designed an infographic (click here for a PDF version or click on the image on the right to enlarge) to illustrate the many tangible and intangible benefits that the network has brought to researchers at the University of Alberta, the agricultural/forestry and energy sectors of the province, and the growing Alberta bioeconomy. We are also rewarding our avid newsletter readers and network members with the opportunity to win 1 of 2 Amazon gift cards worth $50 each (see details below)!
The BCN was born in 2009 with a mandate to grow the Alberta bioindustry by funding original, innovative research that focus on biomass conversion technologies. With an initial $3 million investment from Alberta Innovates Bio Solutions (AI Bio), the network engaged industry leaders and researchers from the University of Alberta and funded collaborations that centered around 3 different types of biomass conversion: thermal, chemical, and biological. By 2012, the values and benefits that the BCN had brought to the province of Alberta was indisputable.
"We are extremely happy that the BCN has matured into a productive and proactive network," says David Bressler, Executive Director of the BCN. "Our network provides critical funding for emerging bioconversion technologies that create value-add opportunities across a unified Alberta, thus eliminating redundancy in research investments and funding allocations. We have helped train a large number of highly-qualified personnel on the U of A campus, funded research that led to spin-off companies, and played a major role in the creation of new intellectual properties. Most important of all, we have created strong academic-industrial strategic networks that pursue disruptive technologies and innovations. It will be very exciting to witness these investments pay off as the province's bioindustry gains more momentum and hits critical mass in the coming years."
In 2012, the BCN was renewed for a second term with $3.8 million funding from AI Bio. With a more refined emphasis on industry collaborations and potential for commercialization, the network re-aligned itself and challenged researchers to pursue projects that fall under 3 overarching themes: biomass pre-processing and logistics, synthetic biology, and advanced chemical platforms. Currently, BCN's extensive portfolio is comprised of projects that examine forestry/agriculture by-product utilization, the creation of bio-based products, and oil sand tailing pond water treatment. As the BCN enters the final year of its 3-year funding cycle, the network is gearing up to host a forestry workshop (by invitation only) and is in the early stages of planning its Annual Strategic Retreat (open event).
We are extremely grateful for AI Bio for providing generous support to the BCN.
---
Help Us Plan The Next BCN Annual Strategic Retreat to Win a $50 Amazon Gift Card!
We are in the early process of assembling a program for the BCN Annual Strategic Retreat, which will take place in the fall of 2014 in the beautiful Alberta Rockies. As with previous years, we expect over 100 participants at this exciting event, including our stakeholders, project principal investigators, and industry collaborators. Please click on the link below and complete a short 5-minute survey to tell us what you would like to see at the next BCN retreat. Your input is greatly appreciated even if you do not plan on attending the event. Respondents will automatically be entered into a draw for 1 of 2 $50 Amazon gift cards, which will take place on May 31st, 2014.