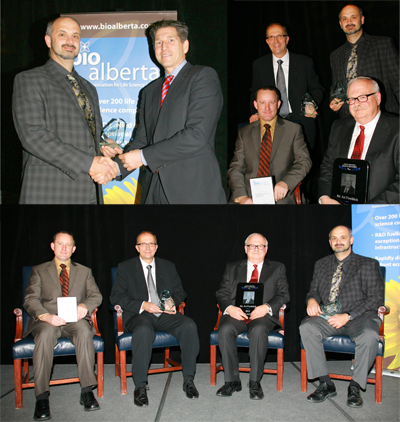 "Milestones=Momentum"
BIOALBERTA MEMBERS RECOGNIZED AT 2012 AGM & Awards Gala
~ Art Froehlich inducted into Alberta Bioindustry Hall of Fame ~
Edmonton, Alberta – November 22, 2012 – Acknowledging that achieving milestones provides companies with the momentum they require to move their products and services to the next stage, BioAlberta hosted its 13th Annual AGM and Awards Gala in Calgary, to an audience of more than 130 representatives from government, industry and educational institutions. The event recognized companies and individuals within Alberta's life sciences industry for their innovation, leadership and achievement.
BioAlberta would like to congratulate the following award recipients for inspiring new ways of thinking and for their contributions to the industry:
Dr. David Bressler – recipient of the Scientific Achievement and Innovation Award. This award recognizes an individual or a team who is responsible for a breakthrough innovation with commercial application.
Circle Cardiovascular Imaging Inc. – recipient of Company of the Year Award. This award is presented to a company that has shown significant achievement within the marketplace and Alberta's business community through strong performance or a leadership role.
BioAlberta is proud to award this year's IBO Grant (Innovation+Brand=Opportunity) to Aquila Diagnostics Systems Inc. This grant is awarded to one BioAlberta member company to facilitate in the development of marketing materials, designed to attract investment and take the company's product, technology or platform to the next stage of development.
BioAlberta would also like to congratulate Mr. Art Froehlich, who was inducted into BioAlberta's Alberta Bioindustry Hall of Fame. This award recognizes an individual who has made extensive and tangible contributions to the Alberta life sciences community, through scientific achievement and research, industry development, public policy, ambassadorship, and education. This honor is not awarded every year but rather on a selection basis.
"It is important that we recognize and acknowledge, not only innovative thinking and leadership within the industry, but also the incremental achievements that our members have made, especially when so much focus is placed on reaching the ultimate goal," said Ryan Radke, President of BioAlberta. "As the provincial life sciences industry association, we believe that to achieve our vision of becoming a thriving and globally competitive industry that fuels key sectors of Alberta's economy, it is imperative that we create an awareness with regard to the achievements of our member companies."
---
About BioAlberta
BioAlberta is the central voice and organizing hub for life science industries in Alberta. The association's vision is to create a thriving and globally competitive life sciences industry that fuels key sectors of Alberta's economy. BioAlberta is a private, not-for-profit industry association, representing more than 140 members of Alberta's steadily increasing life science industry's producers, users and supporters in the province. These member companies operate in specialized sectors such as health biotechnology and pharmaceuticals, medical technology and devices, agricultural biotechnology, natural health products and nutraceuticals, environmental biotechnology and industrial biotechnology and bioprocessing. BioAlberta's activities are focused on advocacy, promotion and proactively facilitating the growth of Alberta's life sciences industry.
For more information, please contact: