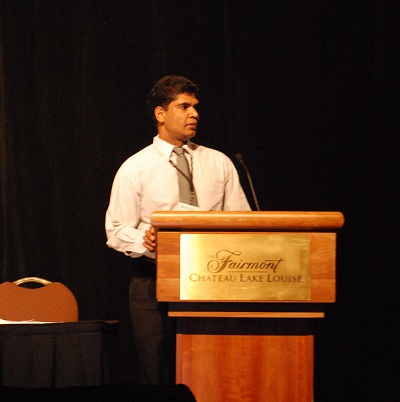 The BCN is pleased to congratulate graduate student, Mr. Sabaratnam Naguleswaran, for winning first place in the Carbohydrate Division Best Paper Competition at the 2010 Annual Meeting of the American Association of Cereal Chemists (AACC).
Mr. Naguleswaran's presentation, entitled "Distribution of granule channels, protein and phospholipid in triticale and corn starches as revealed by confocal laser scanning" described the graduate research he is conducting under the supervision of Dr. Thava Vasanthanin the Department of AFNS. The research is funded by the BCN, Alberta Ingenuity (now part of Alberta Innovates Technology Futures), and the Canadian Triticale Biorefinery Initiative.
The BCN is proud to acknowledge this achievement and wishes Mr. Naguleswaran continued success in his research and related activities.